Our Partners and Associations
TCI
TCI Network is the leading global network of main organizations and practitioners with deep expertise in clusters and competitiveness, who collaborate in a unique open, flexible and practical context to advance in the practice of competitiveness, innovation and cluster development.
Web: www.tci-network.org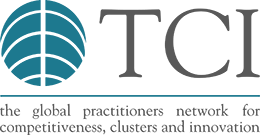 ABC
The Association of Business Clusters (ABC) is an organization that unites and protects the interests of clusters in Bulgaria.

CLUSTER HOUSE
The Cluster House is innovative business development organization for support to cluster – based economic development in the Balkan and the Black Sea Region. It is coordinator of the Balkan & Black Sea Cluster Network BBS ClusNet with over 170 members – clusters and supporting institutions in the region. It is an organizational members of the Global TCI Network, the ECCP platform and the ELAN Network and the INSME partner for the Balkans.