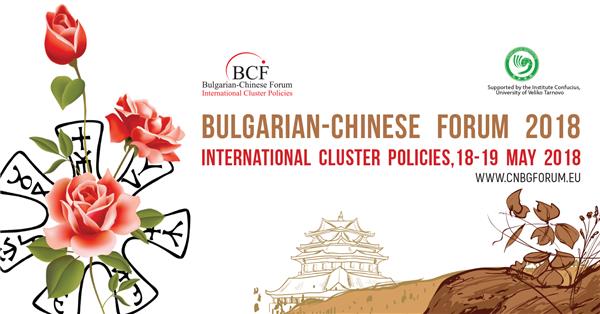 Place: Festival and Congress Centre, Varna
Organisers: The Confucius Institute at St Cyril and St Methodius University of Veliko Tarnovo, together with the Black Sea Cluster Innovation and Development in partnership with the Cluster for Information Assurance of Black Sea Tourism Business and Consulting Cluster Veritas are organising a
BULGARIAN-CHINESE FORUM (BCF 2018) on INTERNATIONAL CLUSTER POLICIES,
which will be held in Varna, Bulgaria on 18th-19th May 2018. The Forum aims to enhance cross-cultural connectivity, to promote global and regional dialogue in line with the Belt and Road Initiative by discussing five main topics: policy coordination, facilities connectivity, unimpeded trade, financial integrationa and people-to-people bond.
PRELIMINARY PROGRAMME
DAY 1: 18th May 2018
09:30 – 11:00

Official opening, plenary session: keynote speakers, presentation of panels and moderators (Main Hall)

11:00 – 12:00

Culture and Art Panel: Bulgarian and Chinese dance, musical and sport performances

12:00 – 14:00

Quality of Life Panel (lobby)




§ Traditional Bulgarian and Chinese cuisine

§ Workshop on traditional Chinese arts: calligraphy, paper-cut

§ Presentation of Bulgarian and Chinese clusters and companies

§ Exhibition of books, pictures and photographs about Bulgaria and China




14:00 – 17:00

Panel Discussions (Press Room)

§ Tourism Cluster Development Models for Global Competitiveness

§ Digitisation Trends in Business: Exploring Innovative Solutions

§ Creativity and Collaboration in Education: Meeting the Challenges Ahead
DAY 2: 19th May 2018
| | |
| --- | --- |
| 09:30 – 13:00 | BCF 2018 Matchmaking and Networking: Exploring opportunities for collaboration, joint projects and business opportunities |
| 13:00 – 14:00 | Lunch |
| 14:00 – 18:00 | Sightseeing tour of Varna and nearby landmarks and resorts |
Participants in the Bulgarian-Chinese Forum "International Cluster Policies" have the opportunity to publish a paper in the journal of BCF2018 "Journal on International Cluster Policies" indexed in RePEc and will be sent for approval of inclusion in SCOPUS.
BCF2018 aims to stimulate new investment opportunities both in the European Union and China and to serve as a platform for business, trade facilitation and investment to build reliable partnerships.
Participation in the forum is free of charge to all pre-registered delegates. Registration is open so please follow the link to secure your free participationhttp://cnbgforum.eu/pages/en/registration.php
For the latest programme, speakers preview and all related activities, please visit the official forum website: http://cnbgforum.eu/pages/en/home.php
Information about exhibition stands as well as advertising in the official catalogue is available upon request on tjilkova@veritascluster.com or tel: + 359 8888 44491.
We are pleased to invite you to participate in BCF 2018 as well as to join to the supplementary events.
Back