New Campaign Ltd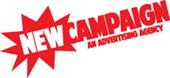 A small creative team with over 20 years of experience in integrated marketing communications, making distinct and different advertising products, services and promotions; New Campaign offers a full-service advertising to save you money, time and mostly personal resources. We think that the best advertising, in all its shapes and sizes, can change the fate of your brand in a positive direction, now more than ever.

We believe that advertising is not an expense of unnecessary funds, but an investment because the smart, accurate and creative approach brings real results and not irreversible costs. Together, we can answer the basic questions regarding your brand or products:

What do you mean?
Who do you want to tell?
Where do you tell them?
And how?
Type of organization: Company
Address: Sofia, 18 Gen. Georgi Vazov Str.
Phone: +359 882 700 706
Email: OFFICE@NEWCAMPAIGN.EU
Web: www.newcampaign.eu